One of the more popular paths towards securing permanent residency or Canadian citizenship for your loved ones is known as Family Sponsorship.
Family sponsorship makes it possible for you to sponsor a spouse or close family members, helping you reunite with each other in Canada—a goal strongly supported by Canada's immigration policymakers. Canada's aim is to keep families together whenever possible, and your relatives are permitted entry in order to live, study, and work in Canada if they become a permanent resident.
Every Canadian citizen or permanent resident has the right to sponsor family members to become a permanent resident in Canada, provided that all parties fill out the application process and meet the necessary requirements. Processing times may vary depending on a variety of factors.
Both the sponsor and the sponsored person must be approved by the government department responsible for the Family Sponsorship program: Immigration, Refugees and Citizenship Canada (IRCC).
What Family Members Can I Sponsor Through the Family Sponsorship Program?
The IRCC requires that the sponsored person fit into one of three immigration categories. You can sponsor your:
Spouse
Partner
Dependent Children
What Is the Definition of a Spouse or Partner?
Spouse: You are legally married.
Common Law Partner: You have lived together continuously for at least one year. Brief separations during the year are acceptable for family or business reasons.
Conjugal Partner: You have a mutually dependent relationship for at least one year, and you have the same level of commitment as a marriage or common-law union.
Keep in mind: Canada recognizes same-sex marriage. For this reason, same-sex partners may apply for the Spousal Sponsorship program under the three categories listed above, as long as they meet the necessary spouse or partner eligibility requirements.
You can learn more about eligibility requirements here, or you can call us to find out more about sponsoring a spouse into Canada. The first 20-minute phone call is free!
What Is the Definition of a Dependent Child?
There are two categories:
The child is under 22 years old and has no spouse or common-law partner.
The child is over 22 years old, has depended on their parents for support since before the age of 22, and are unable to financially support themselves because of a mental or physical condition.
If you need more clarity on whether or not your children qualify, you can use this online tool to check.
I Want to be a Sponsor. What Are the Requirements for Family Sponsorship?
With family sponsorship, the IRCC requires that all sponsors be:
At least 18 years old
A Canadian citizen or permanent resident living in Canada
Able to provide for the basic needs of any person you want to sponsor for a period of time.
Basic needs are defined as:
Food, clothing, shelter, and other needs for everyday living
Dental care, eye care, and other health needs that are not covered by Canada's public health services
You cannot be a sponsor if:
You are under 18 years old
You won't be living in Canada when the person you are sponsoring becomes a permanent resident
You're not a Canadian citizen or permanent resident
You are a temporary resident
Your own permanent residence application is pending
You were sponsored by a spouse or partner, and you became a permanent resident less than five years ago
You are still financially responsible for a previous spouse or partner you sponsored
You have already applied to sponsor someone and the decision has not yet been made
You are in jail, prison, or a penitentiary
You didn't pay back an immigration loan, a performance bond, or court-ordered family support payments, such as alimony or child support
You declared bankruptcy and are not discharged
You receive social assistance for reasons other than a disability
You have received a Removal Order
You have been convicted of attempting to commit, threatening to commit, or committed a violent offence, an offence against a relative, or any sexual offence inside or outside Canada
You can read more about the eligibility requirements to immigrate to Canada here, on the Government of Canada's official website.
Are There Any Eligibility Requirements for Sponsored People?
Yes. To show that your spouse, partner, or dependent children are eligible to immigrate to Canada, they must be able to provide all of the required forms and documentation, as well as any additional information. This may include medical exams and biometrics.
How Long Does it Take to Sponsor a Spouse in Canada?
It usually takes approximately one year to complete the process. However, the application process varies depending on a few factors, including the workload of the visa office where you apply, and how complete your application is when you submit it. Any mistakes or missing information can cause delays, so it is always best to check the processing times on the Government of Canada's website to get a more complete picture.
Can My Spouse Come to Canada While Waiting For a Spouse Visa?
Yes. However, they must enter the country legally and maintain legal status as a visitor, student or worker in Canada. They must also wait for their work permit application to be approved before starting work.
The work permit they require is called an open work permit, which usually takes approximately four or five months to process.
How Do I Apply?
If you want to help your family immigrate to Canada, there are two applications:
You must apply to become a sponsor.
Your spouse, partner, or child must apply for permanent residence.
You should send both applications together at the same time.
I Live in Quebec. Are There Different Rules That Apply?
Yes. You can learn more about sponsoring your spouse, partner, or dependent children here, or simply give us a call,  so we can explain all the details about spousal sponsorship in Quebec.
Need Assistance?
Speak with Canadian Immigration Specialist Chris Brown from Tudor House Immigration Services.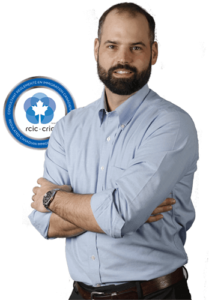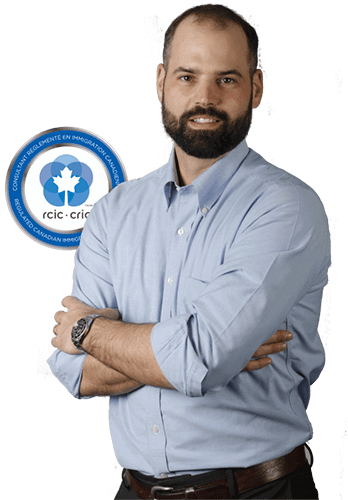 "Chris was both knowledgeable and helpful. He made us feel at ease when asking questions and gave us valuable advice that would have been difficult for us to find on our own."
Alana B – May 18, 2020